£240,910
raised of £460,000 target by

4460 supporters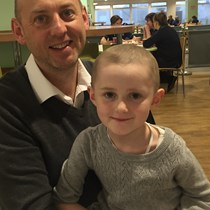 Ian & Keeley Drysdale
We've raised £240,910 to fund Anna's cancer treatment in New York.
Funded on Tuesday, 14th September 2021
Don't have time to donate right now?
Story
11th November 2020
We're home!
Huge huge thanks to all the Go Team Anna supermums who made all of this happen and got us to the US for Anna's treatment, and thanks to everyone else who's been involved and supported the fundraising including the fabulous Jack Savoretti, we are so grateful for your support.
Our heartfelt thanks also to all the wonderful people we met in the US including Barbara Zobian at Candlelighters NYC and the wonderful Maclay family in Dallas who welcomed us with open arms and got Ellen all fixed up too!
We are so lucky to have the support and friendship of so many kind and incredible people and we thank each and every one of you from the bottom of our hearts 💕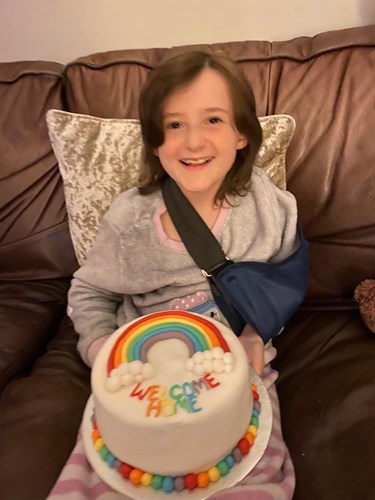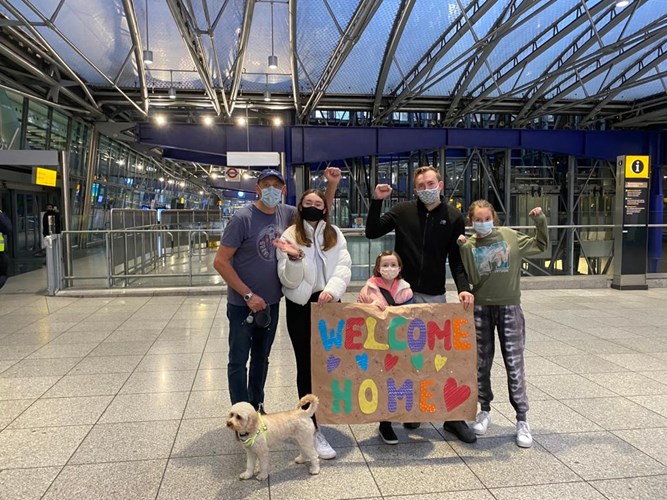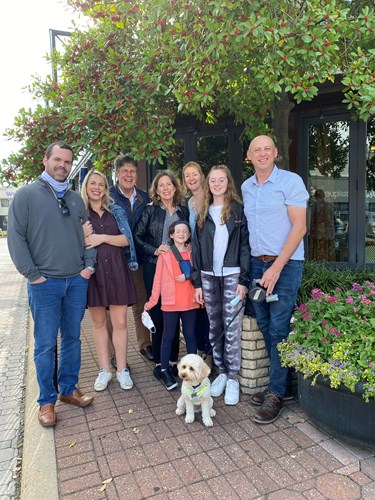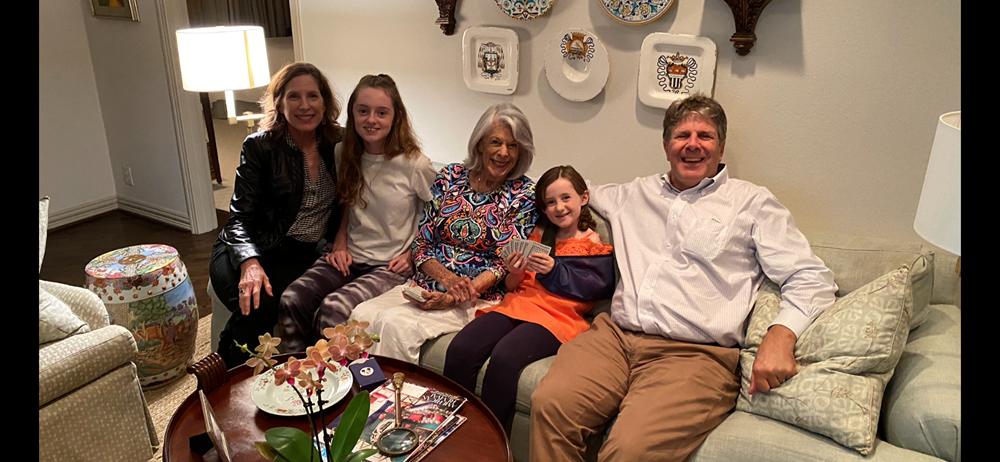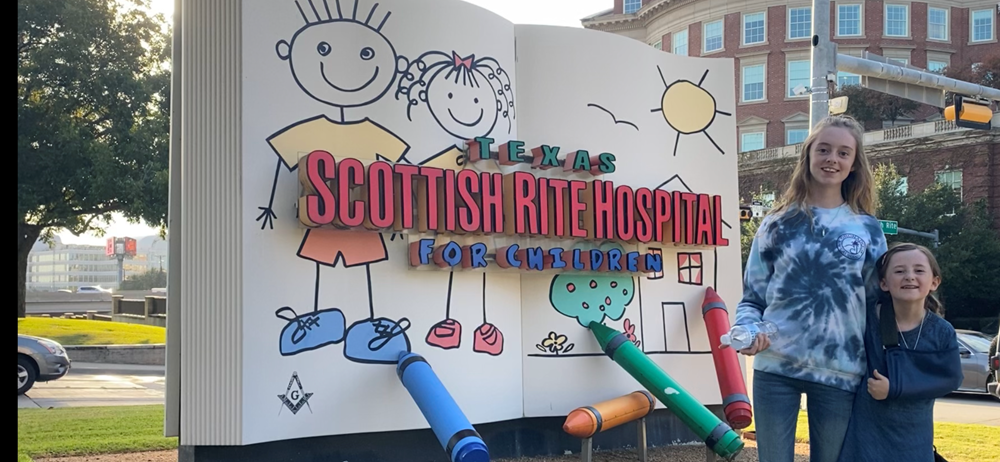 *************************************************
THANK YOU!
We reached our target and Anna has completed her treatment in the USA.
Any further funds received will help towards her ongoing medical costs.
************************************************
Update: 30th October 2020
We are so happy to tell you that Anna's check up at Texas Scottish Rite Hospital went really well, and although her fractured arm may take many months to completely heal, her amazing surgeon Dr Oishi and the whole fabulous team there are happy with her progress. He said that all the metalwork in her arm is strong and has stayed in place indicating a good recovery, so he is happy for us to return home and continue her care at the Nuffield hospital in Oxford  We are incredibly grateful for all the treatment, care and support we have received here in Dallas by the fabulous medical team at Scottish Rite, and also by the kind and wonderful friends we have been lucky enough to meet here. We are constantly amazed at people's kindness and really appreciate everyone's support ❤️
Anna loved wearing her Halloween costume at the hospital and had a great time colouring Dr Herge's hair! Thank you all for making it so much fun.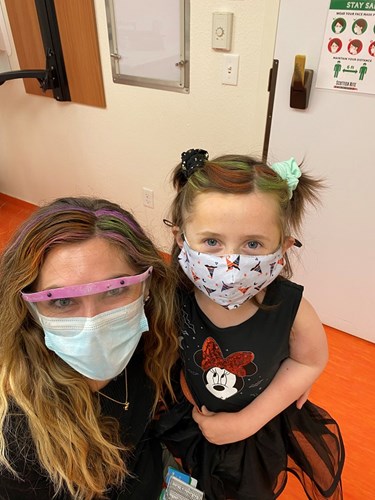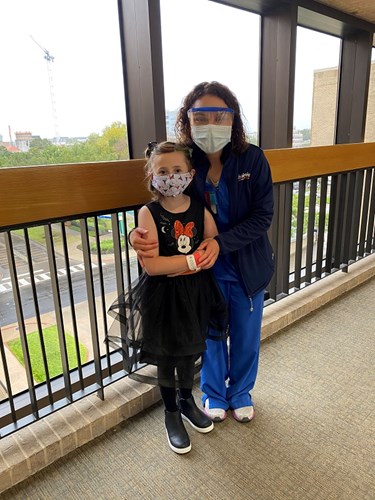 ************************************************
Update: 11th September 2020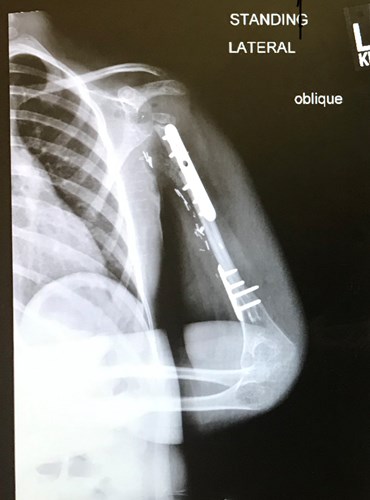 Anna's surgery and post op check have gone well. She has lot's of metalwork in her arm holding everything together now and she's had stem cells and bone marrow injected to help restore the blood supply.
She'll be having regular check ups with the fabulous surgical team at Scottish Rite Hospital over the next couple of months to make sure it's all healing well before we can return home.
Thanks for all your messages of support, it really means a lot to us ❤️
************************************************
Update: 4th September 2020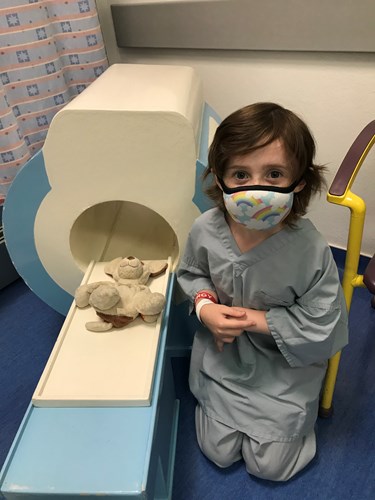 Unfortunately our little trooper has missed the start of yet another new school term as we're staying in Texas longer than anticipated.
Her broken arm hasn't healed from her fall last month and the blood supply to the bone has failed so she's currently in surgery this morning to have part of the bone removed and hopefully replaced with a bone graft from her hip. She's also having bone marrow taken from her hip to try to stimulate the blood supply.
It'll be a slow recovery and we now need to stay in the US for around another 3 months until the doctors are sure that surgery has worked and it's healing well.
We are very lucky to be under the specialist care of the surgical team at the Scottish Rite Hospital in Dallas where Anna's sister Ellen successfully underwent Scoliosis surgery in July. We now hope to return home by December for a peaceful Christmas 🤞
(Anna's beloved Puppy had his own MRI this week too! ❤️)
****************************************************
Update: 30th June 2020
We have just had the most amazing news that all of Anna's tests and scans have come back clear so she has finished her Immunotherapy treatment in New York!
Her care will continue in Dallas for the next few months until we can return home.
We are so relieved and so grateful for everyone's support ❤️
****************************************************
Update : 11th June 2020
We have received great news from MSK that Anna's blood results are all good again and we can start her fifth and final round of Immunotherapy on Wednesday 17th June. They and us are amazed at how quickly and how well she is getting through it, avoiding the long delays we were expecting due to both her response to the treatment and also the challenges of the coronavirus situation and lockdown.
On the 29th June she will have another full set of scans which we desperately hope will all be fine and clear then her treatment will be complete!
We're delighted to say that because Anna has coped with treatment so well, without any complications, extra treatment or emergency admissions, the money raised so far has covered her treatment and there are no further costs to pay MSK.
Initially we were told we would need to have regular follow up visits here in New York until 4 years post treatment but this has been revised and they've now said we can continue regular monitoring, check ups and scans remotely as long as it's with a hospital that they can communicate effectively with and receive quick results from. Unfortunately this isn't possible under the NHS so we're currently contacting private hospitals to arrange this, but it will cost significantly less to do than regularly returning to the US.
Any donation amounts remaining in Anna's fund or further donations received will be used to support this ongoing care and provide a safety net for any unexpected future costs.
Some of you may already know that Anna's sister Ellen has also been dealing with her own health issues recently. In late November while we were in the thick of fundraising for Anna's treatment, we found out that Ellen has Scoliosis, curvature of the spine. It was a huge shock to us all and we found it difficult to deal with the prospect of another of our children having medical problems. We met with surgeons in the UK before we left and then here in New York when we arrived and we were facing the prospect of either very long waiting lists on the NHS which would significantly affect the overall outcome of the surgery or having to raise $300,000 for surgery here in New York. On top of dealing with Anna's cancer treatment, it's been tough.
But through an amazing lady called Barbara at the Candlelighters NYC cancer charity, we had a chance introduction to a wonderful family from Dallas, Texas. One of them happened to be a nurse for a top Scoliosis surgeon and to cut a very long and remarkable story short, Ellen has been approved for funded surgery in Dallas on 14th July. We cannot believe our luck. We are overwhelmed by the incredible support and kindness we have received by so many people. It is impossible to put into words how grateful we are. Really difficult times have actually shown us how much good there is in the world, it seriously far outweighs the bad.
So if Anna's scan results are all good at the end of June then we'll be saying our goodbyes to the wonderful city of New York and driving the 1500+ miles to Texas to embark on another new chapter in our crazy lives. Anna will have some of her follow up appointments there until we can hopefully return home in September with 2 healthy children.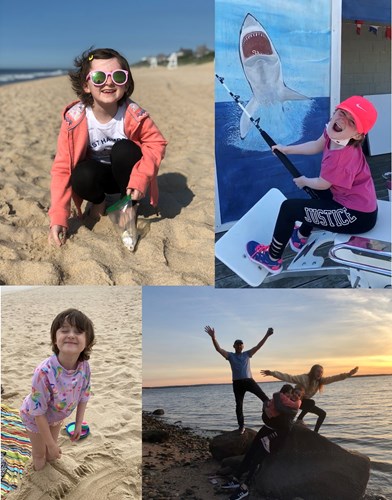 Thanks to Barbara at Candlelighters NYC Children's Cancer Charity for a blissful and very welcome weekend break from the city and Anna's treatment.
*******************************************************************************
We are delighted to say that Anna is in New York and started her Immunotherapy treatment on Wednesday 22nd January.
Through the huge efforts and generosity of our local and wider community and with an incredibly generous anonymous donation made directly to MSK hospital in New York, we have reached our target and paid the treatment deposit of $500,000.
We are immensely relieved to have reached this point and we're very grateful that fundraising is ongoing to support additional costs as we now know that Anna's treatment is going to take longer than the 5-6 months we were initially expecting, possibly even up to a year. Delays are also expected due to the Coronavirus situation and lockdown.
After treatment, Anna will need to come back to MSK regularly for follow up appointments and tests, including monthly visits for the first year.
Thank you to all of our Team Anna champions near and far, we are overwhelmed and incredibly grateful for everyone's continued support.
**********
In February 2017 we were told the devastating news that our beautiful 5 year old daughter Anna had Osteosarcoma, a rare form of bone cancer. In that moment our world and life as we knew it changed forever. Since then, Anna has endured 3 years of gruelling treatment. She's undergone numerous intensive rounds of chemotherapy each lasting almost a week at a time and had major surgery to remove the large tumour and whole humerus from her left shoulder and arm which was replaced with the fibula bone from her right leg. This resulted in her spending a long time in a wheelchair and needing daily physiotherapy to walk again and be able to move her arm. Due to her bones being weakened and thin from chemotherapy, she's also suffered fractures in her leg and in the new bone graft which took many months to heal.
For a few months in 2018, Anna had a brief spell in remission in which time she grew stronger and became more mobile, even managing to walk to school some days as she's always determined to spend as much time as possible with her beloved friends. She kept saying how she loved feeling "normal" again. We attempted to get our lives back on track and regain some happy home life and stability for Anna and her sisters Sarah & Ellen, but unfortunately this didn't last long. In November 2018 we discovered Anna had another tumour, this time in the soft tissue in her shoulder. Telling her this news was heartbreaking. She was so scared at the thought of going through it all again, and of losing her beautiful new hair. At this time, she was transferred from Oxford to RNOH Stanmore and underwent more surgery the week before Christmas 2018 to remove the tumour then started five more intensive rounds of chemotherapy and six weeks of daily radiotherapy all at UCLH in London.
She is currently in remission for a second time but undergoes regular MRI and CT scans as the risk of further recurrences is extremely high and very likely. The NHS has helped us enormously since Anna's diagnosis and we are truly grateful to each and every person who has helped us and cared for her but we have to be realistic and recognise that treatment options in the UK are now very limited. Therefore, we have researched all options and treatments worldwide and Anna has been matched to a new targeted therapy treatment for the prevention of recurrence of Osteosarcoma at the Memorial Sloan Kettering Cancer Center (MSK) in New York, for which she has now been approved. The treatment is expected to take approximately 6 months.
There are links to read more about MSK and the official trial description below but this is a brief explanation of what the treatment is:
Cancer cells have a protein on their surface called GD2 which prevents our immune systems from detecting and attacking them. This new immunotherapy treatment uses an Antibody called Humanised 3f8 which attaches to the protein and focuses our immune system to detect and attack the cancer cells, it also uses a Protein called GM-CSF which increases the number of white blood cells, makes them better able to kill cancer cells and also makes the Humanised 3f8 more effective.
https://clinicaltrials.gov/ct2/show/NCT02502786
https://www.mskcc.org/immunotherapy-msk
Throughout all of Anna's treatment she's remained our funny, caring, life-loving bundle of joy, crazy about Olly Murs, Minnie Mouse, hippos, rainbows, unicorns, art, France, Mamma Mia nights and most of all her beloved toy "Puppy" who manages to appear in just about every photo and hasn't left her side throughout treatment. Even when she's felt really poorly from chemo or been in pain she's always remained positive and has been determined to get through it and at the same time try to help others.
She has raised thousands for the Oxford Hospitals Charity by taking part in the OX5 RUN (click to see video) She happily took on the role of their poster girl and promoted the run through radio, television and newspaper interviews. As Team Anna, 50 of our amazing friends and relatives completed the run with us, all wearing the craziest wigs we could find in support of children going through cancer treatment and suffering hair loss. The charity recently invited Anna to meet Prince Harry at the John Radcliffe Hospital in Oxford, where they told him about Anna being their OX5 RUN's top fundraiser. She has also helped other cancer and children's charities through promoting their fundraising activities as she is always determined to give back and say thank you for the care she has received.
Along with her psychologist at the hospital, Anna has created superhero names and characters for cancer medicines and treatments which are being produced into superhero treatment cards so that other children, their families and medical professionals can use them to lessen the fear of procedures and treatments.
But although Anna loves helping others, she's now the one who needs help. We find ourselves in the incredibly difficult position of having to ask for help to fund her treatment and this is really hard for us to do, but we have to, for Anna.
Sincerest thanks for your support.
Ian, Keeley, Sarah, Ellen & Anna Drysdale
Please visit Anna's website at www.GoTeamAnna.org to see our fundraising events and Anna inspired merchandise.
Please view the video links below to see messages of support to Anna and a few videos created during her treatment:
Rick Astley supports Team Anna
John Bishop supports Team Anna
David Bradley supports Team Anna
Lewis Capaldi supports Team Anna
Joel Pott from Athlete supports Team Anna
Jamie Dornan Supports Team Anna
A special message to Anna from the wonderful Jack Savoretti
Anna's reply to Jack Savoretti
Anna's Dog Walk at Blenheim Palace
Oxfordshire Freemason's Christmas Panto
Anna and Dad playing the piano
Anna's Cryopreservation Fertility Treatment
End of Anna's second course of treatment
Once we are confident that Anna has completed all her treatment and follow up care, then any amounts remaining would be donated to Osteosarcoma research related charities and groups dedicated to making a difference to children like Anna.
Updates
120
2 years ago

Ian & Keeley Drysdale

2 years ago

Our little Texas cowgirl has gotten herself into a scrape again and has had a bit of a setback. Unfortunately she had a fall during a swimming lesson (to help get her arm moving more!) and has broken right through the new bone graft in her left arm, but she's being brave and amazing as always. She's having more x-rays next Wednesday 19th August to check if it's starting to heal by itself. We are hoping it won't need further surgery 🤞

Share this update to help us raise more

2 years ago

Ian & Keeley Drysdale

2 years ago

I am so proud of my 3 girls 💕 They've been facing some really tough challenges lately, but have overcome them with amazing strength and lots of smiles.......

Share this update to help us raise more

2 years ago

Ian & Keeley Drysdale

2 years ago

Anna's been having follow up appointments in Dallas and is doing great. She's had a splint made to try to straighten her arm further and yesterday she had lots of blood tests and X-Rays and thankfully all is well!

Share this update to help us raise more
Ian & Keeley Drysdale started crowdfunding
Leave a message of support
Page last updated on: 4/14/2021 13.50
Supporters
4460
Anonymous

Apr 14, 2021

Generously donated by customers at Fairytale Farm.

Ian & Keeley Drysdale

Feb 21, 2021

With thanks to Bartholomews and their customers in Chipping Norton for their kind donations.

Ian & Keeley Drysdale

Feb 17, 2021

Huge thanks to Memoria Cardiff & Glamorgan for their incredibly generous donation which will help enormously with Anna's ongoing medical costs and care. We are so grateful for their support.

Anonymous

Nov 7, 2020

With love from Laura X

Anonymous

Nov 7, 2020

Sent with love from Edna X
Crowdfunding is a new type of fundraising where you can raise funds for your own personal cause, even if you're not a registered nonprofit.
The page owner is responsible for the distribution of funds raised.
Great people make things happen
Do you know anyone in need or maybe want to help a local community cause?
Create you own page and don't let that cause go unfunded!
About Crowdfunding