Story
Our waterways are in trouble with more dead zones due to nitrogen pollution from excess fertilizer use. Overhead we are being smothered by excess carbon in the atmosphere. Stopping the spread of quick-release fertilizer lets the grass grow and capture more carbon. Stopping the spread of quick-release fertilizer removes the need for herbicides and pesticides because healthier grass is more resilient and fills in denser. Stopping the use of these chemicals enables soil microbes to flourish resulting in healthier soils. There are alternatives to quick-release, fast-acting, and water soluble nitrogen (WSN) fertilizers.
Slow the Carbon Crisis with healthy soils and lawns capturing significantly more carbon.
Simply stopping the use of glyphosate, the active herbicide ingredient in RoundUp, will increase the carbon captured by fungal mycorrhizae during the growing season by a third. For weed control, mix a gallon of white vinegar, a cup of salt, and a tablespoon of dish soap. Put in a squirt bottle and cover leaf surfaces of unwanted vegetation.
Benefits of not fertilizing established lawns include:
No algal blooms when lawns no longer pollute
Greener and healthier grass
Healthier soil microbes
More carbon capture by fungi
Spongy lawn protecting your home from extreme weather events
Improved water quality in waterways
Fewer town beach closures
Blue water (get the green out of Monponsett Pond)
Improved groundwater
Save money
No more fish kills
No ocean dead zones when people stop polluting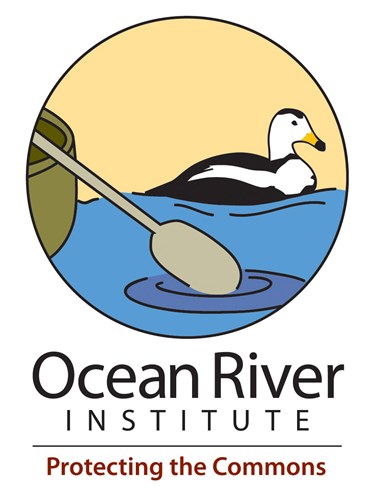 Help us blue the skies over Massachusetts by capturing more carbon out of the atmosphere with healthier lawns and soils.
Your support benefits the Ocean River Institute including our ability to pay interns and work with community groups changing lawn care practices for the better.